Ibec Global is at the forefront of the major discourse taking place that will affect businesses internationally. We believe in a multi-stakeholder, international, solutions-based approach to anticipating and solving the most pressing business, economic, and societal issues. We do this by operating through strategic international networks and developing and participating in a dynamic array of international engagement activities. We also convene private and public high-level international discussions and debates in the context of major societal, policy, geopolitical and business trends that are going to define the direction of business and policymaking in the future.
Meet the team
Celebrating the impact of Irish Women in Brussels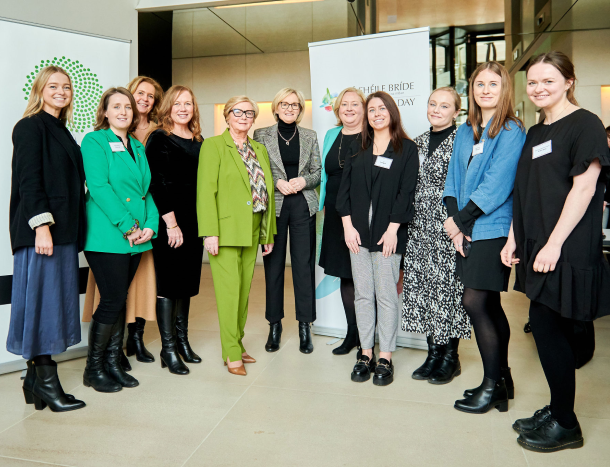 Ibec Global was honoured to host a special event on 1 February, along with the Embassy of Ireland to Belgium and the Permanent Representation of Ireland to the European Union, bringing together Irish women in Belgium to celebrate St. Brigid's Day. From early-career to the top decision-making tables, Irish women are working in Belgium to make a difference across all sectors and industries and this networking event brought these women together to celebrate their achievements.

We were privileged to be joined by: Ambassador Cáit Moran, Representative to the Political and Security Committee, Permanent Representation of Ireland to the European Union; Frances Fitzgerald MEP, Member of the Parliament's Committee on Women's Rights and Gender Equality (FEMM); and Mairead McGuinness, European Commissioner for financial services, financial stability and Capital Markets Union. All three shared their experiences and ambitions for progressing work towards achieving gender equity and empowering all women and girls.
Supporting an improved digital future for Ireland and Europe 
On 30 September 2022, Ibec Global welcomed Executive Vice-President Margrethe Vestager, EU Commissioner for Competition and Chair of the Commissioners' group on a Europe Fit for the Digital Age, as a guest speaker at our event "Ireland as a leader in a strong, digital EU". She spoke to the over 200 in-person attendees at the event in Trinity College Dublin about the challenges faced by Europe and the crucial role digital policy has in addressing those challenges. She added that 'the ideas and creativity within the business community can play a central role in powering us onwards, towards a new digital future'.
To read Executive Vice-President Vestager's remarks in full, click here.
Playback
/ Watch Previous Events
Climate Action
Diversity, Equity & Inclusion