Divergence Watch is a new quarterly publication by Ibec Global, which looks at the shifting relationship between the EU and the UK across different business sectors and highlights the key areas businesses should keep a close eye on in the coming months. In each issue, we focus on the impact of Brexit on a specific industry, consider where divergence has taken place so far and its impact, and what the key takeaways are for international business leaders.
Winter 2022
/ Carbon
This issue of Divergence Watch focuses on carbon policy, one of the most highly debated topics policy areas in the EU and UK. It considers divergence and cooperation in the interlinked areas of carbon emissions, carbon pricing and carbon removal and what this means for business, including the implications for trade and competition.
Autumn 2022
/ Transport and Mobility
This issue of Divergence Watch looks at the impact of Brexit on transport and mobility, including the cost and administrative implications for businesses moving goods and people across jurisdictions, and highlights the gap between the desire for cooperation and continued EU-UK policy divergence.
Summer 2022
/ Financial Services
This issue of Divergence Watch looks at the impact of Brexit on the financial services industry, highlights concerns around market access, duplication and uncertainty and outlines potential divergence areas business leaders need to keep a close eye on over the coming months including ESG legislation, Digital Finance, market regulation and asset management.
FSI
/ Dialogue with the City of London
Financial Services Ireland, the trade association that represents financial services firms, both domestic and international, as part of Ibec runs a Dialogue with the City of London. Established in 2015, its focus now is fostering relationships and sharing insights between Irish and UK C-suite leaders in the financial services space, whilst recognising there are differences since Brexit. Its focus for 2022 is on sustainable finance and digital finance. Its co-Chairs are Declan Bolger, Chief Executive Officer, Irish Life Group and Joanna Cound, Managing Director and Head of BlackRock's Government Affairs team in Europe.
To find out more, please contact aisling.mcniffe@ibec.ie.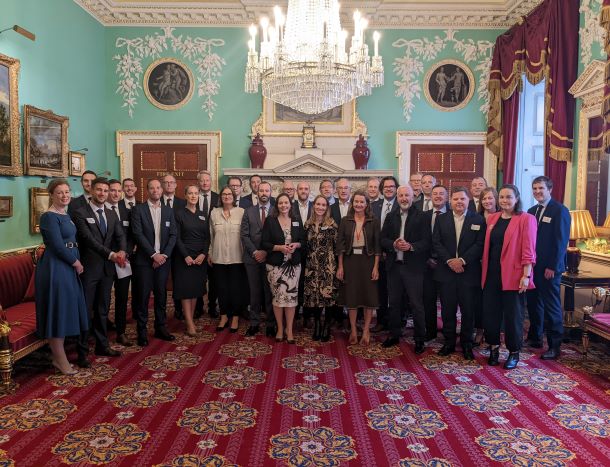 The 2022 City of London Dialogue.