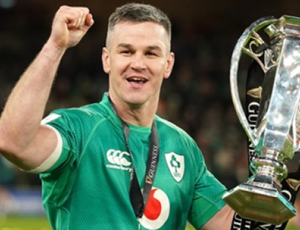 Johnny Sexton is an accomplished professional rugby player hailing from Ireland. Born on July 11, 1985, in Dublin, Ireland, Sexton has emerged as one of the most influential and talented fly-halves of his generation. Renowned for his exceptional skills, leadership qualities, and astute game management, he has left an indelible mark on the world of rugby.
Sexton's rugby journey began at a young age, with his passion for the sport evident from the outset. He honed his skills at St. Mary's College, where his talent quickly became apparent.
Throughout his career, Sexton has been a pillar of strength for both club and country. He has represented Ireland at the highest level, earning numerous caps for the national team. His debut for Ireland came in 2009, and since then, he has played a pivotal role in his country's success on the international stage. Sexton has featured in multiple Six Nations campaigns, guiding Ireland to victory in 2014, 2015, 2018, and 2019. In addition, he has played a crucial part in Ireland's consistent performances in the Rugby World Cup.
At the club level, Sexton's achievements are equally impressive. He has been an integral member of Leinster Rugby, one of Ireland's most successful clubs. With Leinster, he has captured several domestic and European titles, including multiple Pro14 championships and European Rugby Champions Cup triumphs. His contributions to the team have earned him accolades and admiration from fans and peers alike.
What sets Sexton apart is not only his exceptional skill set but also his leadership qualities. He was captain of Leinster until earlier this year and is currently captaining Ireland down in France. Known for his ability to remain calm under pressure and make crucial decisions, he has been a driving force behind many memorable victories.
Sexton's playing style is characterized by his tactical awareness, accurate kicking, and excellent distribution skills. He possesses a remarkable ability to control the game, analysing situations and orchestrating plays with precision. His kicking prowess, especially from the tee, has been instrumental in securing crucial points for his teams.
Off the field, Sexton is known for his professionalism, dedication, and humble demeanor. He is highly respected by his teammates and opponents alike, earning a reputation as a true gentleman of the game. His commitment to his craft and his relentless pursuit of excellence have made him an inspiration for aspiring rugby players worldwide.
As one of Ireland's most influential rugby figures, Johnny Sexton's impact extends beyond the sport itself. Recently, he overtook Ronan O'Gara as Irelands all-time leading points scorer. His performances on the field have inspired a generation of players and brought joy to countless fans. With his exceptional skills, leadership, and unwavering passion, Sexton has etched his name into the annals of rugby history, leaving an enduring legacy for future generations to admire.