The Hybrid Work Paradox and the "Great Reshuffle"
September 30, 2021
Microsoft Ireland is one of the Strategic Partners for the Ibec HR Leadership Summit 2021.
On September 9, 2021, Satya Nadella and Ryan Roslansky, the CEO of LinkedIn, sat down to talk about the key secular trends as people and organizations everywhere adjust to hybrid work. This is part of an effort between Microsoft and LinkedIn to help leaders and their teams navigate this new and flexible world of work. The evolving Delta variant is a stark reminder that this is the new normal. Our ability to come together will ebb and flow.
In Microsoft's latest Work Trend Index report, which shares opinions from Microsoft employees in over 100 countries around the world, employees feel that hybrid work is complex and by embracing flexibility, different work styles and a culture of trust, it can help us all navigate it successfully. In a year when Microsoft sent 160,000 people home to work and remotely onboarded 25,000 new employees, the share of people who report feeling included at Microsoft is at an all-time high of 90%. According to surveys, employee confidence and support from managers is also at an all-time high. While there is still so much more that they can do in the culture journey at Microsoft – this data shows that you don't have to be physically together to feel like you're in it together.
But there's no guarantee that these positive trends will continue in hybrid, and difficulties remain. As we navigate remote work during a pandemic, employee surveys show continued challenges to satisfaction with work-life balance and team connection. Ongoing research shows employees crave more in-person time with their team but wish to keep the flexibility of remote work. And every person is different – 58% of employees who plan to spend the most and least time in-office are doing it for the same reason: more focused work. Moreover, employees surveyed plan to go into the office more than managers expect. This complexity is what Satya calls the Hybrid Work Paradox.
Chart shows reasons Microsoft employees cite for working in-person and at home.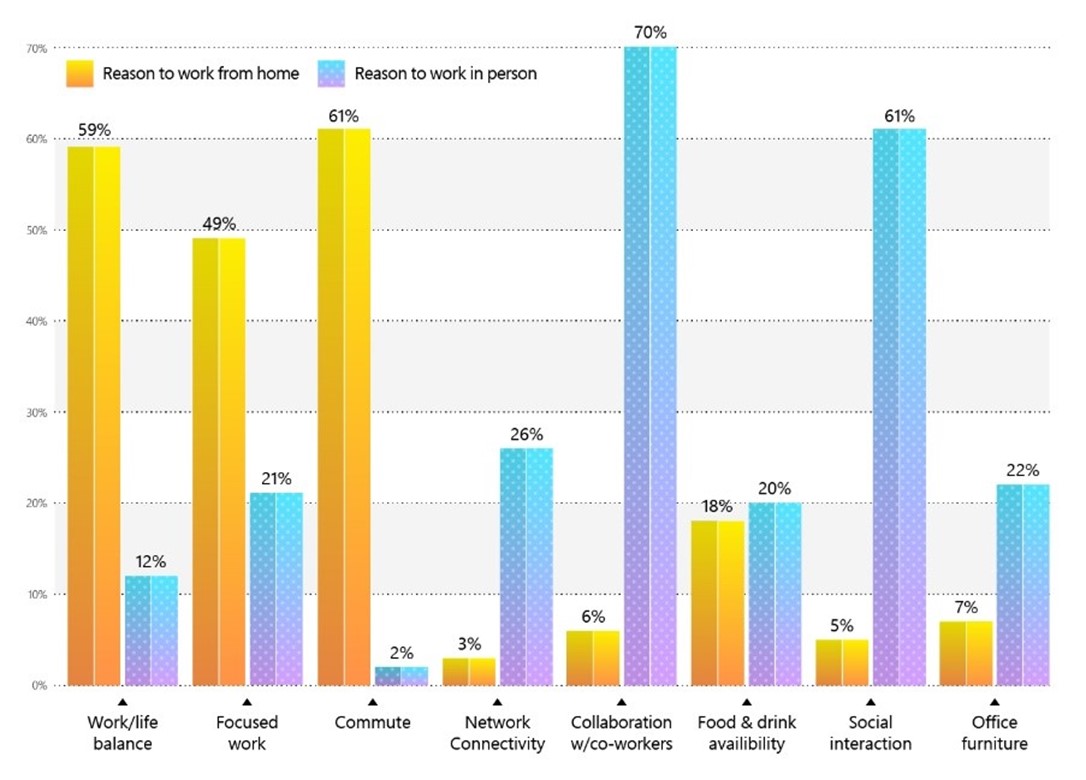 Solving the Hybrid Work Paradox will be the challenge of the decade. We need policies and technology tuned for flexibility, but that's not enough. Every leader must also ask: How do I rebuild social capital and connection back to mission, culture and team? How do I help people prioritize individual well-being and work in sustainable ways? As Satya has said: "Our new data shows there is no one-size-fits-all approach to hybrid work, as employee expectations continue to change. The only solution is to embrace flexibility across their entire operating model, including the ways people work, the places they inhabit and how they approach business process."
All of this will be key to navigating this moment of change that LinkedIn are calling the "Great Reshuffle." Leaders are rethinking their working models, cultures and company values, while at the same time, employees are rethinking not only how and where they work, but why. At the core of it all is the start of a new, more dynamic relationship between employers and employees.
Key takeaways
Microsoft employee survey data shows feelings of inclusion and manager support are at all-time highs, while self-reported productivity levels remain consistent.
A successful shift to hybrid work will depend on embracing the "hybrid paradox," in which people want the flexibility to work from anywhere, but simultaneously crave more in-person connection.
There's no one-size-fits-all approach: some employees cite work-life balance, focus time, and meetings as reasons to go into the office. Others see those as reasons to stay home.
The role of the manager becomes even more important in hybrid work. Our findings show a gap between manager and employee expectations, but one-on-one conversations create trust and give people the confidence to embrace their version of flexible hybrid work.
Visit Microsoft's Virtual Booth at IBEC's HR Leadership Summit to discuss and explore more about the future of work.