Saint Brendans Irish Cream Liqueur
Saint Brendan's Superior Irish Cream Liqueur is expertly crafted using two premium ingredients, natural Irish double cream from the dairy farms on the nearby County Antrim coast and award-winning The Quiet Man ® Irish Whiskey, triple-distilled Irish Whiskey, matured in first fill bourbon barrels. This unique blend of all-natural Irish ingredients results in a versatile, elegantly smooth, gentle and creamy spirit, with notes of vanilla, marshmallow, chocolate, and a touch of spice.
Saint Brendan's is committed to supporting local communities and producers in a sustainable way. The natural dairy cream used comes from happy cows, fed on the rich green grass of the North coast of Ireland. It has a rich butterfat content giving Saint Brendan's a taste of pure decadence. The Irish Whiskey is produced a short distance away from the Giant's Causeway in the world's oldest licensed whiskey distillery and combined with other ingredients at our production facility in County Derry. The combination of both gives to Saint Brendan's Irish Cream Liqueur its smooth richness and authentic taste.
Producer: Niche Drinks Co.
Origin: Co. Derry
Ingredients:
Irish Double Cream
Blended Irish Whiskey
Sweeteners
Caramel Flavouring
Cacoa Flavouring
Awards:
2022 San Francisco World Spirits Competition - Double Gold Medal
2022 Sip Awards Innovation Award - Silver
Website: www.stbrendans.com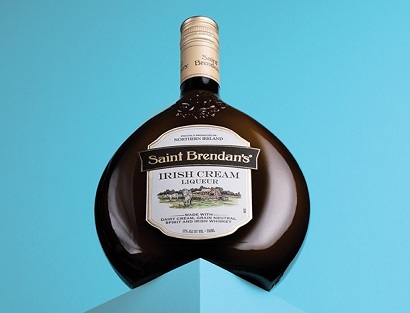 Niche Drinks also produce Brady's Irish Cream Liqueur: www.bradysirishcream.com