Merrys Irish Cream Liqueur
Merrys Irish Cream Liqueur is handcrafted in Clonmel County Tipperary, using the freshest Irish dairy cream from the Golden Vale region, expertly blended with our finest Irish Whiskey. The result is a multi-award winning liqueur of truly exceptional balance and taste.
We insist on using only the finest natural ingredients in Merrys Irish Cream Liqueur to create a rich, chocolate and vanilla creaminess with toffee undertones. Fresh Irish dairy cream from grass-fed cows that graze in the lush Golden Vale valley region is delivered from the creamery within 12 hours of leaving the farm gate, then handcrafted in small batches using the finest Irish Whiskey and spirits.
Merrys Irish Cream Liqueur are proud members of Origin Green and have made concrete commitments in accordance with the Origin Green sustainability charter to become a more sustainable producer. About 4.5 million litres of Irish Cream Liqueur are produced annually at our production facility in Clonmel, County Tipperary. Each year we source approximately 1.35 million litres of fresh dairy cream from local farmers to make our luxurious liqueurs.
Producer: Robert A. Merry & Co. Ltd.
Origin: Co. Tipperary
Ingredients:
Golden Vale Irish Cream
Irish Whiskey
Awards:
2019 World Liqueur Awards - Best Irish Cream
2019 World Liqueur Awards - World's Best Cream
2020 World Liqueur Awards - Best Irish Cream
Website: www.merrys.ie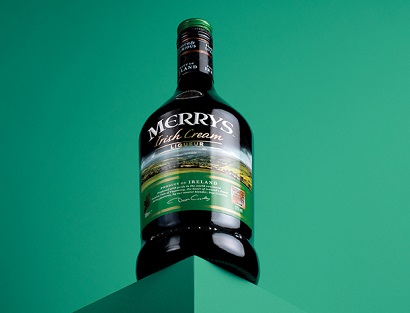 Robert A.Merry & Co. Ltd. also produce The Whistler Small Batch Irish Cream Liqueur.