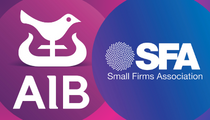 In today's ever-evolving business landscape, sustainability isn't just a buzzword - it's a savvy strategy that can work wonders for small businesses looking to cut costs and boost productivity.
Small Firms Association is excited to invite you to our upcoming event, in partnership with AIB, where we'll delve deep into the world of sustainable practices and their game-changing potential for businesses of all sizes.
We will be joined by Mike McGrath, Co-Founder of Kwayga, and John McGeown, Head of Sustainability, AIB Sector Team, who will discuss how a more sustainable business will help you reduce costs and how to boost your productivity whilst still maintaining a low carbon footprint.
This free event is open to the entire small business community and an incredible opportunity for business owners, managers, and anyone looking to invest in sustainability, whether far ahead on their sustainability journey or giving the first steps towards it. Join us on the 26th of October at the Clayton Hotel in Cork to gain valuable insights, network with fellow professionals, and take the first step toward a greener, more cost-effective future for your business
Explore the transformative power of sustainability alongside like-minded peers! Register today.
Are you having Cookie issues when trying to register? Make sure cookies are enabled for our page. On the footer of the page, under "Other links", click on "Cookie Settings" and ensure functional cookies are enabled.