Idiro Analytics are pioneers in advanced analytics, working across multiple industries with a strong pedigree in banking and telecoms. In 2020, Idiro proudly won 'Analytics SME of the Year Award' and the Idiro CEO won 'Analytics Leader of the Year Award 2020/2021'.
Formerly Geraldine was CFO and later Strategic Director, where she guided Idiro's expansion. Now in her role as Director, she places emphasis on the company being a diverse, creative and nurturing culture. Just this year, she started up Idiro's AI Ethics Centre.
Now in her 2nd elected term on the SFA National Council and appointed to the role of Deputy Chairwoman for the council in 2021, she promotes the support of SMEs for societal and commercial causes. As a passionate advocate for indigenous business and their growing need for an effective 'Small Business Strategy'. With this in mind, she contributes to the yearly budget submission and various SFA lobbying initiatives to the government.
Geraldine is a Board member of Technology Ireland (IBEC) representing Ireland's tech sector, which includes indigenous and FDI technology companies.
Geraldine is committed to the ongoing investment in Ireland's indigenous sector and is honoured to be on the Dublin Chambers 'Budget & Competitiveness' task force since being elected to the Dublin Chambers policy Council in 2020.
Graham Byrne
CEO, Flender
Graham Byrne is CEO of Flender, and was previously MD of Cardinal Capital. With over 20 years financial services industry, Graham has been directly involved in Irish SME's which have supplied goods and services in Ireland and overseas. The largest concentration of Graham's involvement is in providing funding directly to Irish SME's.
In 2005, Graham started Bibby Financial Services Ireland (BFS). In that period up to 2013, BFS Ireland provided over 200m in funding, serviced over 500 customers and was responsible for maintaining and creating over 5,000 jobs. BFS Ireland was award winning in the industry and won business of the year 2012 and 2013. Graham then took up the Chief Commercial Officer role for the European region tasked with restructuring 14 operating companies to increase customer service delivery and increase availability of credit to EU SME's. Graham successfully started new businesses in Czech, Slovakia and the Netherlands. The business grew to reach 2,500 clients providing over 900m of funding to clients.
Marina Bleahan
Founder & MD, Business Works
Marina Bleahen is founder and Managing Director of Business Works. She is a passionate business success expert who helps teams, CEOs and business owners achieve high performance. A Graduate of UCD Smurfit Business School Executive and Business Coaching, Licenced Engage and Grow Coach, Certified Accountability and Leadership Builder and Lead Culture, Marina brings a passion and energy to every organisation and team she works with. Drawing on solid academic models, Marina looked to Europe, Australia and North America for proven success models to build Leadership, Accountability, Culture, Engagement and Employee excellence as she invested both financially and ten thousand hours in becoming an expert in the award winning proven methodologies from Partners In Leadership, Door International, ActionCOACH and Engage and Grow. Marina specialises in helping business leaders deliver success through getting their teams aligned to key results and creating a culture of positive accountability to execute strategy, even while working remotely. Clients are reporting strong business growth and increased engagement. A proven track record as a Global brand director leading marketing strategy for Elan, Marina is passionate about delivering results and business success for her clients, her vision is that being in business should give you more life. During Covid 19, Marina has led Webinars for and been published by the SFA, PKF, Institute of Directors and Business Matters where she is regarded as an authority on getting the culture right in leadership teams to achieve results, even during uncertainty.
Rohit Thakral
CEO, Target Integration
Rohit is an Entrepreneur & Business Automation Consultant experienced in working for businesses from Manufacturing to Finance and from Retail to Distribution. He started Target Integration in 2008 with a vision to be an honest and independent CRM & ERP. Rohit has 16 years of experience working in various industries including manufacturing, customer services, telecoms etc. His experience includes management, business planning, systems administration, business analysis and systems trainer. At Target Integration, he has successfully delivered a number of projects to clients from around the world (from Japan to West Coast in the US) and has been consulting their CRM & ERP implementations on a regular basis. Before starting Target Integration, Rohit was working as Product Manager for UPC Ireland, now Virgin Media, Product Specialist in Data Edge providing telecom test equipment and Field Customer Services Rep for HP. Other than running Target Integration, Rohit is on the steering committee of the Ireland India Business Association (IIBA) and has lectured as a guest lecturer for Dublin Business School & Technological University Dublin. Also, he is studying MSc in Leadership Innovation and Technology (Part-Time) at Technological University Dublin (formerly DIT) where he graduated from back in 2005.
Fredericka Sheppard
MD & Co-founder, Voltedge Management
Fredericka is a Chartered Member of the CIPD and a Certified Management Consultant (CMC) with the IMCA. She is currently also a Board Member of the Institute of Management Consultants and Advisers.
A graduate of UL and NCI in Human Resources Management, Fredericka has been working in the field of Human Resource Management since the mid 1990's since then has held a number of Senior HR Management roles with a range of organisations from multinationals, start-ups, to indigenous Irish companies across the tech, ICT and Financial Services sectors.
Fredericka set up Voltedge Management in 2011 with her business partner Joyce Rigby-Jones and now provides HR Consultancy Services to organisations of varying size across Ireland and internationally. Their client base extends from very small (2+ employees) to much larger businesses, and frequently provide project support to HR departments and senior management teams of larger organisations on areas such as Change Management, Organisation Design and Development of People Strategy projects.
Dave Byrne
MD & Co-founder, Dualtron
Dave is co-founder and MD of Dualtron Ltd, Ireland's only provider of cash handling systems and cloud payment systems. Dualtron joined the SFA about 20 years ago and Dave is very grateful for their advice on many issues down the years. The company's motto is 'You can count on Dualtron' and won the Services Awards in the SFA National Small Business Awards in 2017. The company competes on a regular basis with multinational providers and Dualtron's continued success makes Dave believe that Irelands small business sector can create jobs and wealth in Ireland. See www.dualtron.ie
Rebecca Harrison
MD, Fishers of Newtownmountkennedy & Food at Fishers Ltd
Rebecca is an award-winning business owner, retailer and networking champion. She is a strong advocate for small business, family business and women in business.
She is Managing Director of Fishers of Newtownmountkennedy Boutique Department Store and Food at Fishers Cafe, employing 35 people. She sits on the SFA Skillnet Steering Committee and on the Advisory Board of Network Ireland, having served as its President in 2017.
She is a member of the Government's Retail Consultation Forum reporting to the Department of Enterprise Trade and Employment and also sits on the Council of Retail Excellence Ireland. She speaks regularly at events and on air on East Coast FM and other media outlets. She lives in Co. Wicklow with her daughter where they love to make the most of the sea and mountains on their doorstep.
Ambitious, accomplished entrepreneur Cora Barnes is the founder of award winning Three Q PERMS & TEMPS & Nurse Jobs Ireland, Board Member of a NFP Youth Service in Dublin 1 & a Fellow of the Employment Recruitment Federation. With 23 years in business. An MBA Graduate of the Micheal Smurfit School of Business Cora is passionate about L&D & entrepreneurship. Cora is a Speaker and a sitting judge on LEO Businesswomen's Award, an active committee member of the ERF Skillnet & a fundraiser and CSR supporter.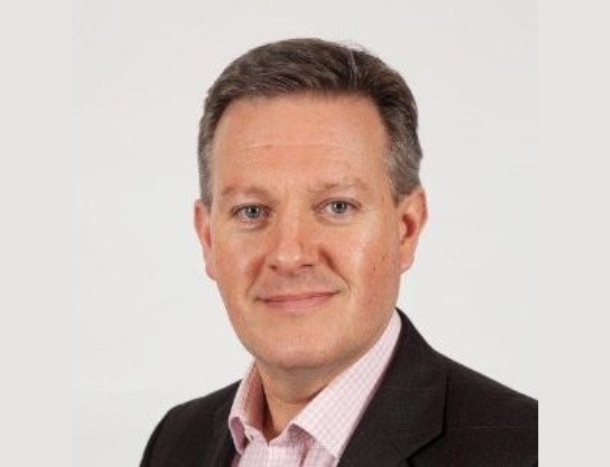 Neil Mullaney
The Agile Executive
Neil has extensive experience in strategic and business planning, sales development, performance management, mentoring and business advisory services. Neil combines a strategic and analytical approach with a passion and commitment to benefit clients and their customers. Neil sold his technology business to an MBO funded by a leading Irish bank. In addition, he is involved in several high-performance start-ups, which have traded very successfully.
Pat Downes
Managing Partner, Lionheart
Patrick Downes is CEO of the Institute of Management Consultants & Advisers. Previous to that he was Managing Partner of Lionheart Management Consultants which specialises in Corporate Governance, Risk Mitigation and Regulatory Affairs. Prior to establishing the practice he served as an Executive Director with Bord na Mona plc and at CEO level for a number of SME's & Corporates. He has held the Chair of various organisations, including the Corporate Governance Association and serves on several boards. He holds a number of post grad qualification's including an MBA and is currently undertaking a PhD at NUIG where he sits on their Alumni Board. He is a trustee of the RDS and is a Fellow of both the Royal Society and The Chartered Institute of Marketing.
Caroline Ashe
Commercial Director, KORE Insulation
Caroline Ashe has been the Commercial Director for KORE Insulation for the past 14 years. As Commercial Director, Caroline is responsible for ensuring the company supplies customers with the products and services they need to meet their insulation requirements. Caroline is passionate about quality, a key aspect of the business, and continues to be motivated and excited by the opportunities that exist to construct super energy efficient buildings in Ireland. A graduate of DCU, Caroline has obtained a MSc in Strategic Procurement and a Degree in Marketing and Management from DIT. She is also a Certified Passive House Consultant with the Passive House Institute. Led by Caroline, KORE was the first company in Ireland to transition to ISO 9001:2015 and ISO 14001:2015. The same year, KORE also added OHSAS 18001, demonstrating their continued commitment to occupational health and safety. In addition to being an excellent management tool, ISO ensures that KORE are always focused on meeting customer requirements, that they follow best practice, and that quality is at the heart of what KORE do. KORE are overall winners of the 2019/2020 SFA National Small Business Awards and also won the Manufacturing Category.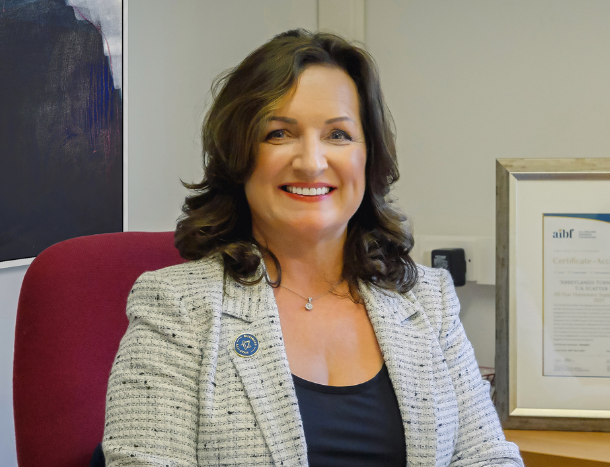 Caroline Horgan
CEO, Abbeylands Furniture Ltd and Scatter Box
Caroline Horgan is Ceo of Abbeylands Furniture Ltd and founder of Scatter Box. Caroline took over the helm in 1999 of the furniture manufacturing company, founded by her father in 1959. In the following years the global importation of furniture decimated indigenous Irish furniture manufacturing, Caroline's tenacity and passion for homeware, led her to diversify the company through design and innovation into the home Décor market with her B2B Scatter Box brand, which is exported globally and was recently awarded the 'High Potential Exporters Award 2022. The company manufactures in Navan, Co. Meath.