Why are digital wallets so popular in ecommerce?
October 10, 2023
Digital wallets are on the rise. Research* by the card brand Discover shows that across Europe, digital wallets are the single most popular way of paying when shopping online.
That might come as a surprise to some, but perhaps shouldn't. Anyone familiar with digital wallets will know they provide a level of convenience and security almost unrivalled by other methods of paying.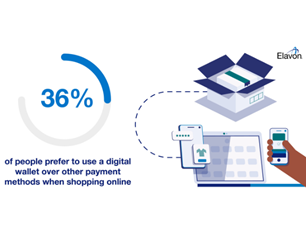 *Global Merchant and Consumer Payments Survey 2022
Peter Charmant, Head of Corporate Retail for payments experts Elavon in Ireland, said business owners should familiarise themselves with digital wallets to capitalise on this growth area.
"Digital wallets are deceptively simple – in many cases there isn't a physical card behind it," he said.
"And remember a digital wallet isn't just on a phone, where it is sometimes called a mobile wallet, it can be on a laptop."
The most common types of digital wallet in Europe are Apple Pay and Google Pay, but there are several others you might come across including Amazon Pay, PayPal and Alipay, which is widely used in China.
Take Apple Pay as an example. Once a user has set up their card in the wallet they can pay in-app or while browsing your website just by double clicking the button on the side of their iPhone. It's a very similar process, and just as simple, with Google Pay or a wallet on a desktop computer.
At this point, you should think about where most of your customers are based, and make sure you accept the card brands most popular in those locations.
Whichever digital wallet your customer uses, there's no need for clumsy entering of long card numbers or remembering of 3D Secure passwords. And yet they're incredibly secure, as everything is encrypted.
To find out how Elavon can support you with digital-age payments, visit Elavon.ie.