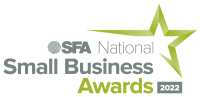 The finalists in the SFA National Small Business Awards 2022 have been officially announced by Sue O'Neill, Chair of the SFA Awards Judging Panel. The aim of the awards is to celebrate the achievements of small business in Ireland, and to recognise the vital contribution of the small business sector to Irish industry.

An Taoiseach Micheál Martin TD, who is Patron of the Awards, said: "The SFA National Small Business Awards acknowledge and recognise the innovation, resilience, and talent demonstrated by these companies, and their importance to the future of the Irish economy.

This is especially important as we re-open society and rebuild as we emerge from the pandemic. We need the agility, flexibility and adaptability of small business more than ever now".

47 companies have been selected as finalists, from 12 different counties, across ten categories.
Network
/ Follow SFA on social media