Ibec Global is at the forefront of the major discourse taking place that will affect businesses internationally. We believe in a multi-stakeholder, international, solutions-based approach to anticipating and solving the most pressing business, economic, and societal issues. We do this by operating through strategic international networks and developing and participating in a dynamic array of international engagement activities. We also convene private and public high-level international discussions and debates in the context of major societal, policy, geopolitical and business trends that are going to define the direction of business and policymaking in the future.
Supporting an improved digital future for Ireland and Europe 
On 30 September, Ibec Global welcomed Executive Vice-President Margrethe Vestager, EU Commissioner for Competition and Chair of the Commissioners' group on a Europe Fit for the Digital Age, as a guest speaker at our event "Ireland as a leader in a strong, digital EU". She spoke to the over 200 in-person attendees at the event in Trinity College Dublin about the challenges faced by Europe and the crucial role digital policy has in addressing those challenges. She added that 'the ideas and creativity within the business community can play a central role in powering us onwards, towards a new digital future'.
To read Executive Vice-President Vestager's remarks in full, click here.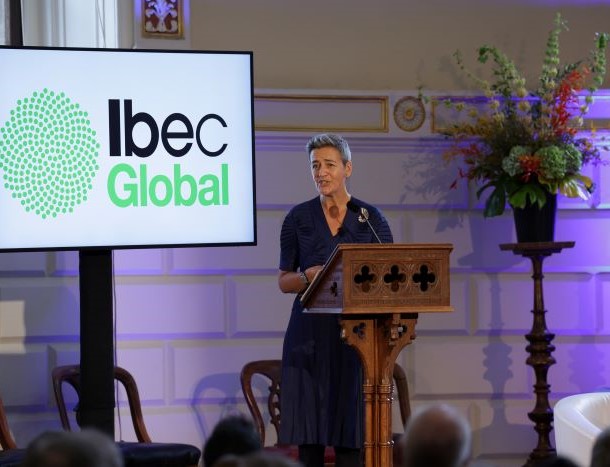 Explore
/ Previous Events and Discussions
Climate Action
Diversity, Equity and Inclusion